Product photography is at the heart of every e-commerce business, and it includes hardware, software, and a lengthy production process.
In 2022, there are an estimated 2.14 billion people worldwide using e-commerce for their buying needs, and this is a substantial number of buyers from a global population of 7.87 billion. Meaning that 27.2% of the world is online or e-commerce shoppers, and this accounts for 18.2% of all retail sales and is estimated to be 22% by 2023.
In this competitive era where businesses strive to optimize workflows, it is of utmost importance for your e-commerce business to get products up on your website as quickly as possible.
So, you might ask, is there any way to optimize this time-consuming product photography process?
Well, you need an automated product photography setup.
In this article, let us discuss some interesting deeper insights into the importance of using automated product photography setups. At the outset, we assure you that this is not any selling gimmick and is not to promote any particular product. This is merely an objective look into this domain.
Table of Contents
Finally, to make your life easier, we will introduce you to the 7 best automated product photography solution providers with their range of products.
Difficulties Encountered By Traditional Product Photography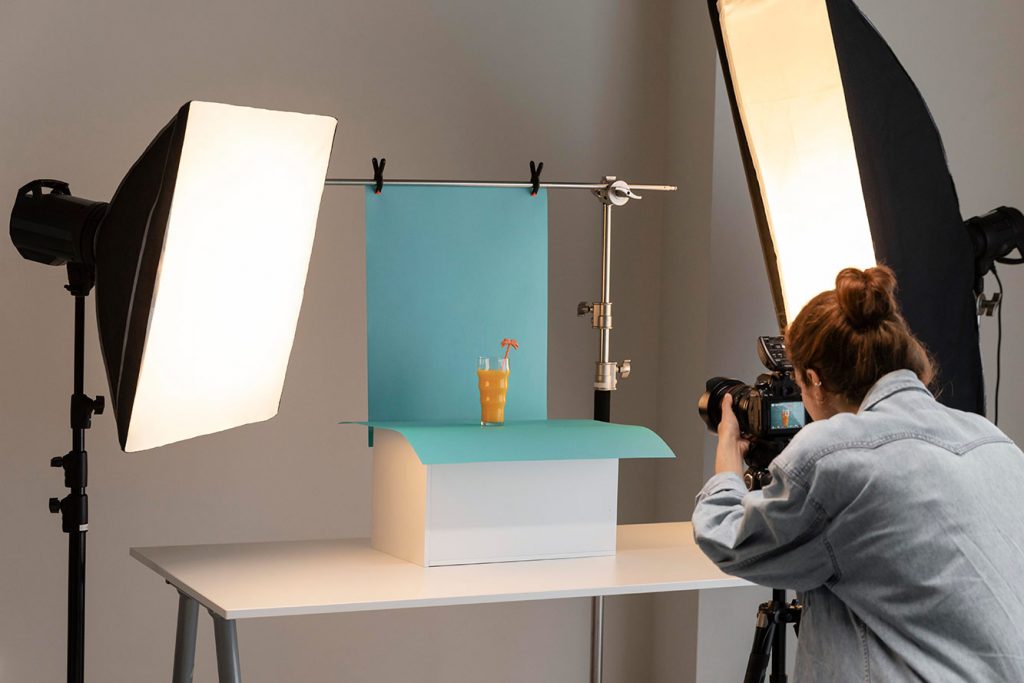 For an e-commerce business with a huge inventory, it is no longer practical to use traditional photography systems in these fast-changing/evolving times.
The pre and post-production process involved in traditional photography requires skilled people. Setting up the studio, adjusting lights, removing backgrounds, and more similar steps require significant manpower and time.
Let's elaborate more on the challenges imposed by the traditional product photography process,
The human effort required to create a suitable environment for photographing a product is enormous. Besides, there is always a chance of human error creeping in.
Skilled photographers are a must to obtain good results.
Various aligned procedures like editing and developing can be a tedious affair after the photography.
The cost involved is by no means economical.
The time required to conduct a perfect shoot is not feasible, especially when hundreds of products have to be photographed.
It is known that 54% of customers will seek another company that produces similar products if they are not satisfied visually. Additionally, all the relevant product information is closely linked to the visual, resulting in the buyers not proceeding if the visual has not appealed to them. It takes just a quick view to perceive the product and its specifications.
Advantages Of Automated Product Photography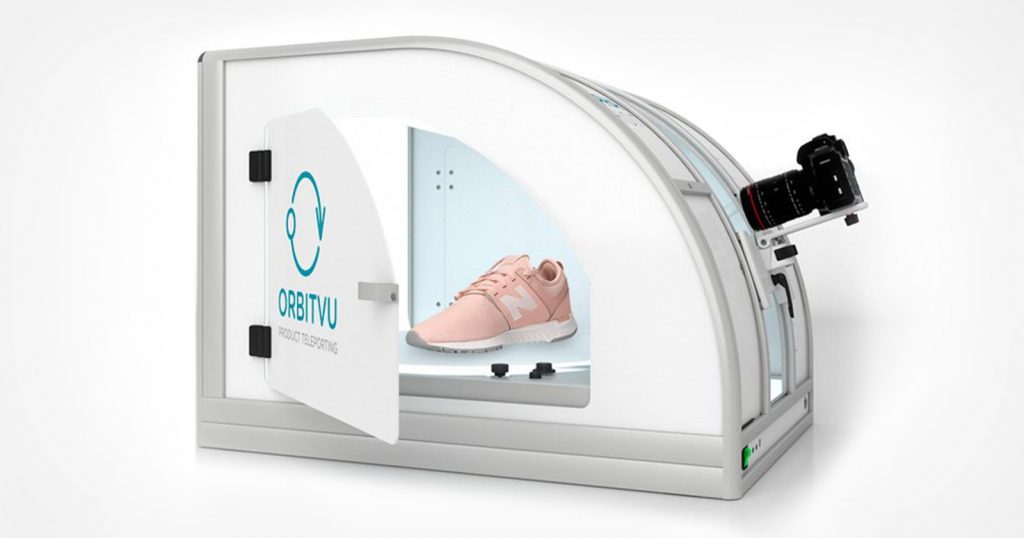 E-commerce is spreading its wings in every conceivable direction, and importantly, consumers enjoy this online shopping experience immensely. It is a no-brainer that every product must be presented in the best way possible to effect a sale. This is precisely where automated product photography plays a dominant role.
It is crucial to have a seamless process to optimize pre and post-production to facilitate sales in good time and cut expenses drastically.
#1 – Speed – is the key
The speed with which suitable photographs are produced and adapted to multiple products is noteworthy. This results in establishing financial feasibility.
There is an in-built selection of various lighting systems to create the ideal scenario. Matching an appropriate background for different products can be done instantaneously.
#3 – Versatility – through unique setup dedicated to product photography
The products to be displayed can vary in size, dimensions, and shape; automated product photography systems are designed to be versatile inherently. They can be easily maneuvered by built-in software that makes them adaptable to any situation. There are even portable systems that can be folded and carried easily to any other location.
The sophistication of software utilized by automated product photography systems can never be matched manually. E-commerce has understood that time saved is money generated. It is probably safe to say that 'Traditional is out and automation is in.'
#2 – Quality Assurance
The consistency in quality is outstanding. The regularity with which the same high-quality standards are maintained is remarkable.
The quality of the product has a direct correlation to conversion rates.
#3 – Cost saver – economical in the long run
Automated product photography doesn't require skilled professionals. With initial product training, everyone is good to go. The efficiency ratio is so high as compared to traditional product photography.
#4 – Scalability
The advantage of being scalable is of immense importance. The system can easily handle the additional load of hundreds of products daily on a daily basis. With the help of additional software, they can be delivered to any site worldwide with just a click.
Also, it adapts to modern trends like 360-degree or 3D product photography. A detailed 360-degree view is made possible effortlessly. 3D product images ensure a more precise description.
Automated product photography permits a high level of interaction with the proposed buyer as it adapts to the changing trends more professionally than traditional systems can offer.
Types Of Automated Product Photography Setups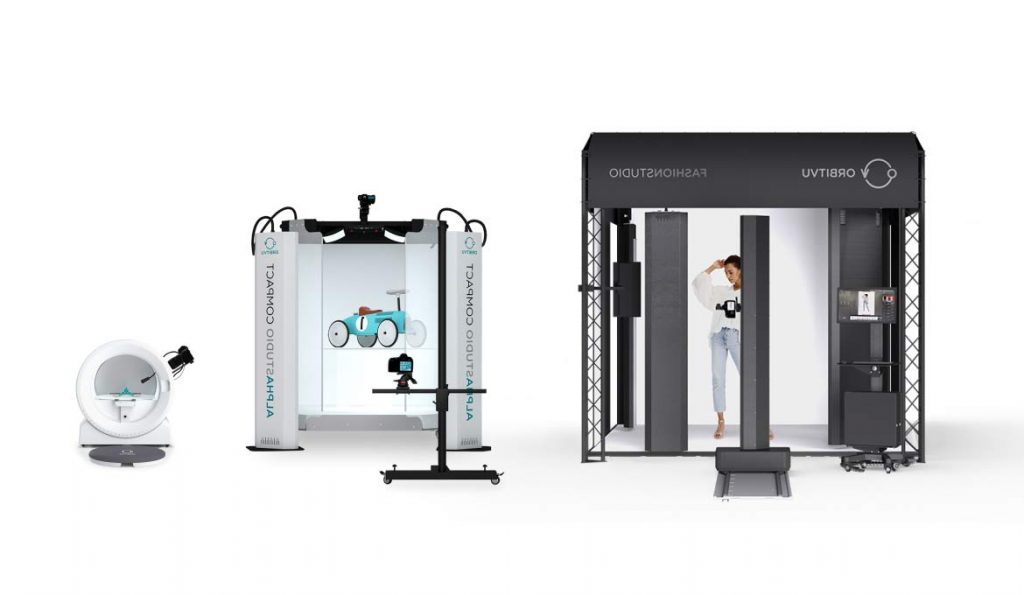 An automated product photography setup is divided into the following sections depending upon the size and type of product to be photographed.
2D (2-Dimensional) Product Photography Setup
Static product photos, also known as 2D images, are the most common and simplest type of product photos. You need to follow a few sets of standards and professionalism while preparing them.
Primarily, an important ingredient is a background in any type of online product photograph. Automation helps us deliver thousands of 2D product photographs within a very short time frame compared to traditional ones.
3D (3-Dimensional) Product Photography Setup
It is always better to stand out from the crowd by displaying your products in a 3-Dimensional manner. A process that formerly used software like Photoshop to create 3D images was very time-consuming and required skilled operators. Thankfully, automated product photography has taken 3D photography to another level.
All that is needed is choosing an appropriate background. This again is done in seconds by this sophisticated technology. So you can imagine the amount of time, effort, and money saved!
360-Degree Product Photography
E-commerce businesses rarely use these 360-degree product photographs because they require lots of effort to capture multiple images from various angles. But with spin technology used in automated product photography setup, capturing multiple images is now assisted by motorized turntables that spin.
Many smaller products like jewelry require a 360-degree presentation to achieve the desired results. The fashion industry is greatly benefitted from the use of this technology. Animation has also received a huge boost with this 360-degree spin technology.
With 360-degree product photos, consumers can now get a detailed description of the product and achieve a similar effect like viewing it in their hand. Additionally, one has the option of deep zoom-in features that permit you to get to the heart of the product.
Large Products Photography Setup
For this type of automated product photography, the hardware required may involve a designated room or cabin. The size of products may include furniture, heavy equipment (mechanical or electronic) like bicycles, motorcycles, refrigerators, air conditioners, TV, among several others.
Cabins can vary in size and shape depending on the nature of the product to be photographed. These cabins are remotely controlled and can change the background depending on the required needs. The background is usually white, but it can be changed to various other ones to give an added effect or match the product on display.
Dedicated software is embedded to control the equipment involved in the photo shoot; this includes robotic cameras placed strategically and adjustable lighting conditions. Other systems can include a photo editor and a system to publish the results immediately to a pre-designated site on concluding the shoot with just a click.
Now let's jump to the bread and butter of this article,
7 Best Automated Product Photography Solution Providers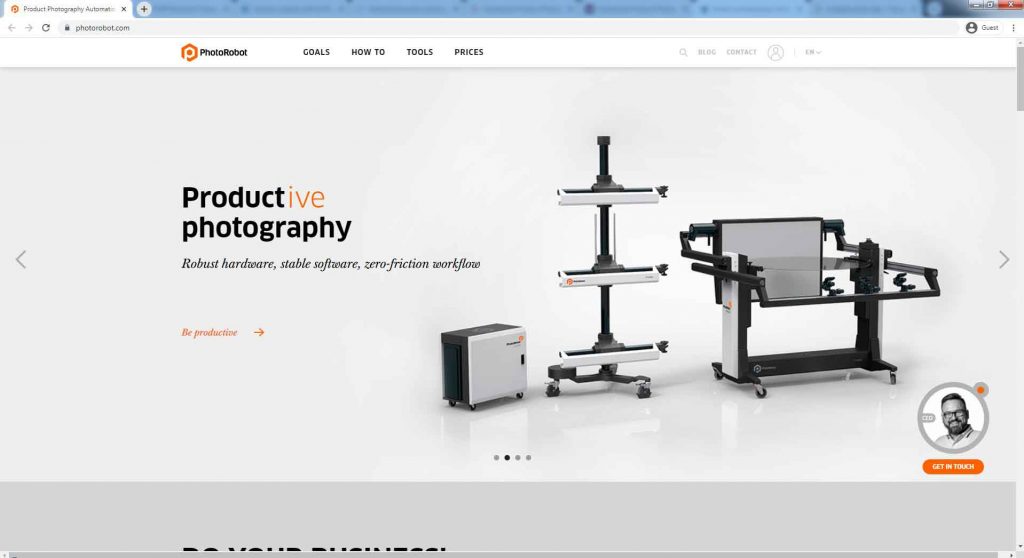 One of the key features is the development of a 'centerless table' for static (2D) and 360-degree product photography. This comprises a glass turntable that can handle a maximum weight of 40kgs. It offers shadow-free product photography. The sensor placed below the table reads the product on it 1000 times per second. In other words, one spin takes 4 seconds and 20 seconds to take complete 360-degree images.
Prospective buyers of the product can view every minute detail with utmost clarity. Captured product photos can be used in catalogs, magazines, and on large billboards outside. Besides, Photorobot is versatile to handle any output data that may be required.
With a range of 16 different robots, any product image can be photographed and uploaded to the cloud after suitable processing to make them available anywhere, anytime in precisely 1 minute flat. The real-time operating system can be integrated into third-party software to increase productivity and efficiency so at to enable it to be reviewed and published instantaneously. This is done irrespective of the nature of photography, spin or still.
Additionally, being fully automated, it can control its robots, camera, and lighting systems by one single operator.
By using CDN spin-viewer technology, high-quality pictures are photographed with multiple cameras and from different angles.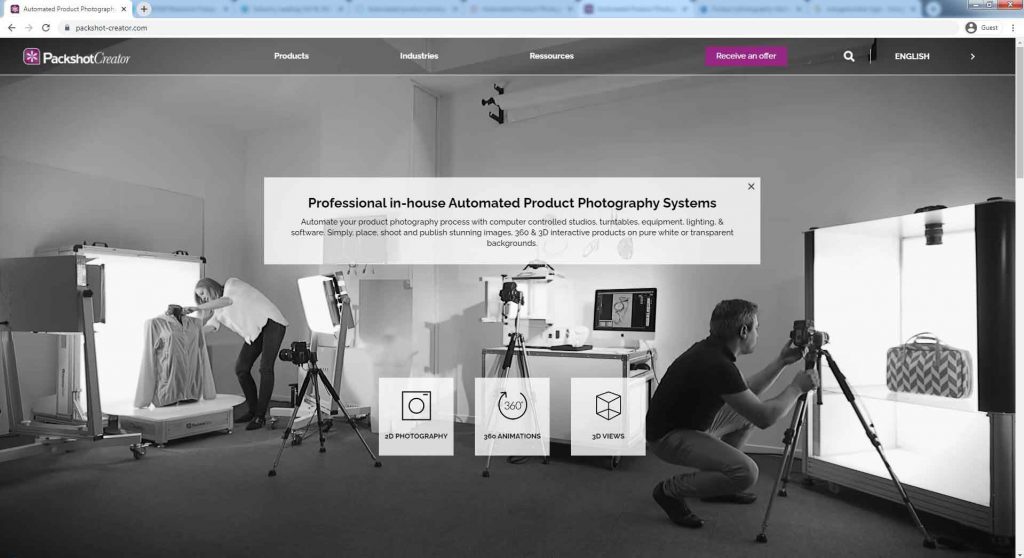 PackshotCreator offers 360-degree shots, 3D views as well as 2D photography in software-controlled studios that can adjust the light and help choose the ideal backgrounds.
Importantly, this system offers a wide option of automated visual production possibilities.
From photographing jewelry and other smaller products on its turntables to larger designated studios for bigger products, it caters to every need a professional automated product photography company may desire. Products ranging from pharmaceuticals, toys, watches to furniture, sports equipment, huge electronic gadgets, among many others, are compatible with PackshotCreator setups.
There are 30 different capture systems available for all types of products. The Mark series automated photography setups have gained popularity over the past few years.
PackshotCreator offers large, designated, fully automated studios for almost any type of automated product photography.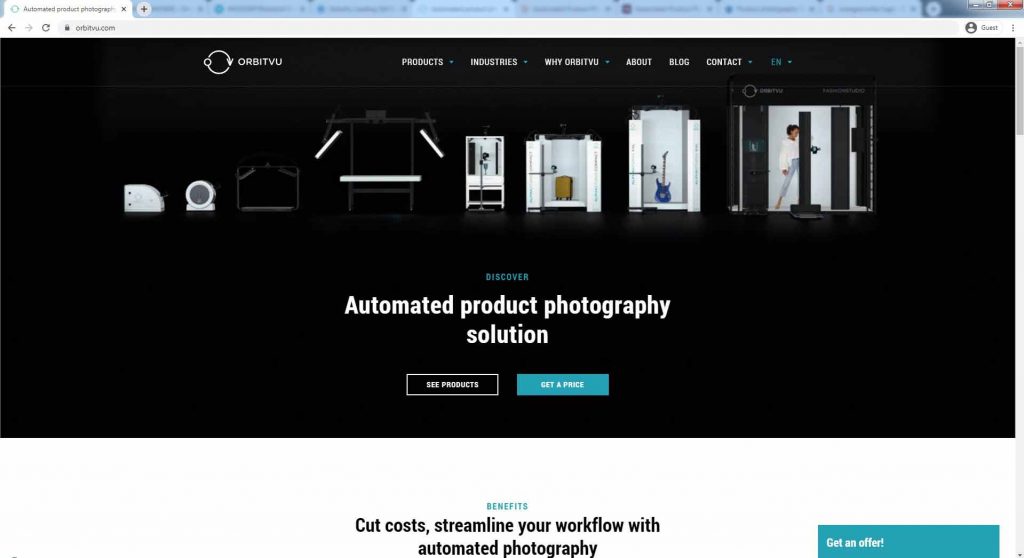 Orbitvu may have the best collection of automated product photography setups in the market, and it is probably the best you can get to perfection.
All setups come with an integrated lighting system with the appropriate software for further actions required in each specific case. They have a solution for almost any product under the sun, along with an answer for the best software lighting systems that each one may require.
Let's directly dive into the range of products offered by Orbitvu,
AlphaStudio XXL – It is a fully computerized large studio ideal for live models, furniture, and other huge items that can weigh as much as 250 kg. It is capable of 360-degree spin view as well.
AlphaXL – It can be used for mid-sized products up to 100 kg.
Fashion Studio – As the name suggests, this studio caters to all demands of product photography for the fashion industry that including clothes, accessories, and all other related accessories.
BIKE Studio – Photograph bicycles and motorcycles with utmost ease using the assistance of sophisticated software-controlled lighting systems that can deliver optimum results.
Turntables: Orbitvu's extensive range includes turntables from Mini, Midrange, to Maxi sizes with either 360-degree spin or best suited for static photography.
Alpha 360: This caters mainly to smaller items that need a 360-degree spin view.
Alpha micro V2: These turntables are very good for photographing jewelry, gemstones that require a high clarity resolution with a 360-degree spin view.
Flat tables: The tables are flat for products that need to be laid out. This is a special requirement, but these tables offer a good solution.
Finally, Orbitvu is among the most reliable and established brands to handle photography from small, medium to large products.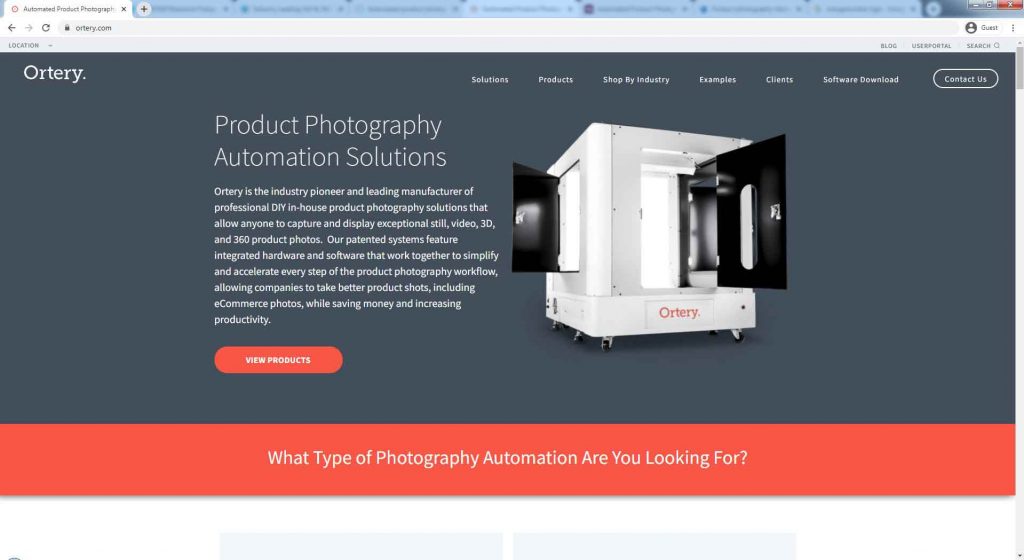 One of the most important functions that Ortery offers is the ease of removing or changing the background effortlessly. This technology prevents the formation of shadows from appearing that can alter the look of the products.
Its Afterimage feature is an asset that counts. Products that have been shot a long time ago can be recreated to the original version of the initial shot of the products with integrated software that also reproduces the original lighting and editing used earlier.
List of Notable Products:
Photobench 280 – This version allows for very flexible lighting with its eight different light sources and controls. Also, a 360-degree turntable is offered for photographs that need to be displayed with an all-around view.
Still photography – This is the most economical setup for photographing small products, which can be done in-house on pure white or transparent backgrounds. The need for editing is eliminated, and you can shoot from Canon cameras from different angles.
Multi-arm series for 3D Images: A wide range of choices are offered with the number of arms, where each arm is fitted with a dedicated camera that can be controlled separately. The type of arm setup required depends on an individual need.
Ortery is the best fit for small to mid-range gadgets or components like watches and jewelry.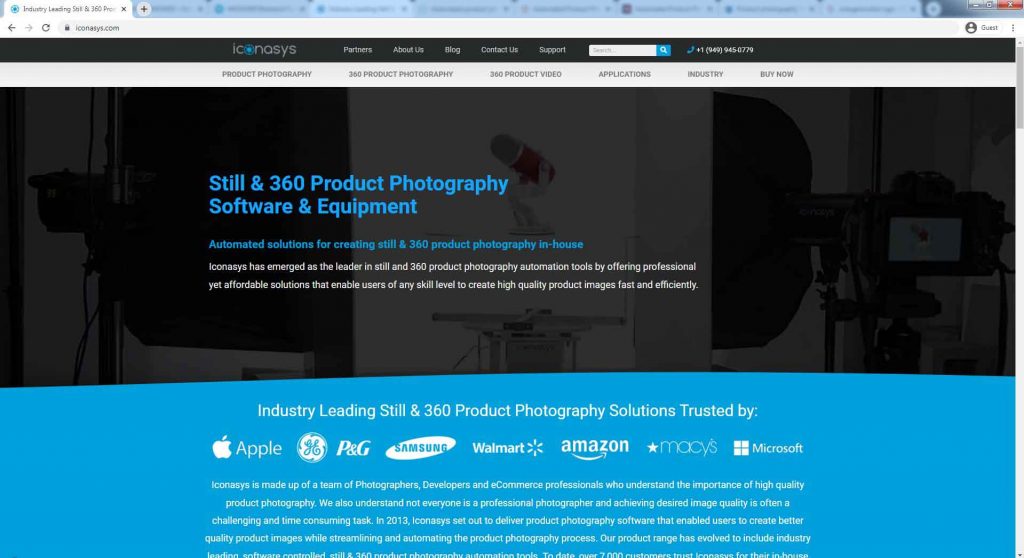 This unique automated product photography system delivers white background in seconds. Its specialty is that even a layman can use its features for maximum benefits.
One of Iconasys's best achievements is the development of an advanced software called 'Shutter Stream.' The software can be installed on a laptop with its numerous functions that can be maneuvered with ease.
This brand provides innovative solutions for in-house photography. It is a standalone product where the users can use their independent lighting arrangement or choose to use the Iconasys photography lighting kit.
Range of Products: The variety of turntables that Iconasys provides are revolutionary. These turntables come in varying dimensions suitable for jewelry, watches, gemstones, and many other smaller and mid-sized components. Also, the setup includes accessories like hangers, ring mounting, and mobile mounting kits to help display the products more suitably.
Additionally, it offers an integrated optimum lighting arrangement that delivers excellent results. Shutter Stream claims that the images produced can be appealing enough to convert the visual to a buy. The company also states that productivity can be increased by 1000% on account of its efficiency.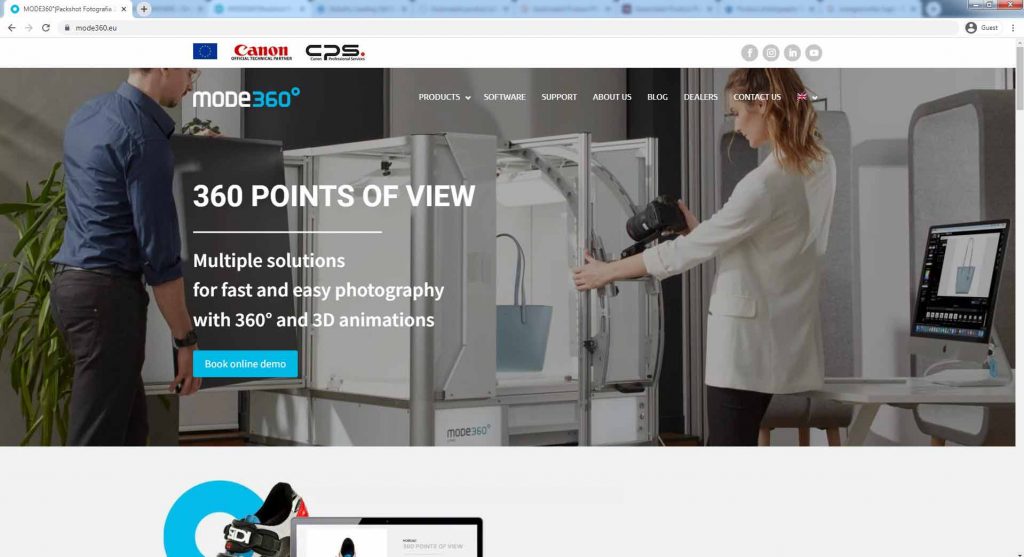 The Composer V4 by Mode360 is a compact automated product photography system dedicated to the jewelry industry. A single shot takes only a minute and is processed within 30-seconds.
The special feature includes the sharp focusing ability to produce crystal clear images and remove backgrounds easily besides presenting a 360-degree view.
Mode360 is built with a particular product in mind, so its usage is limited to smaller products.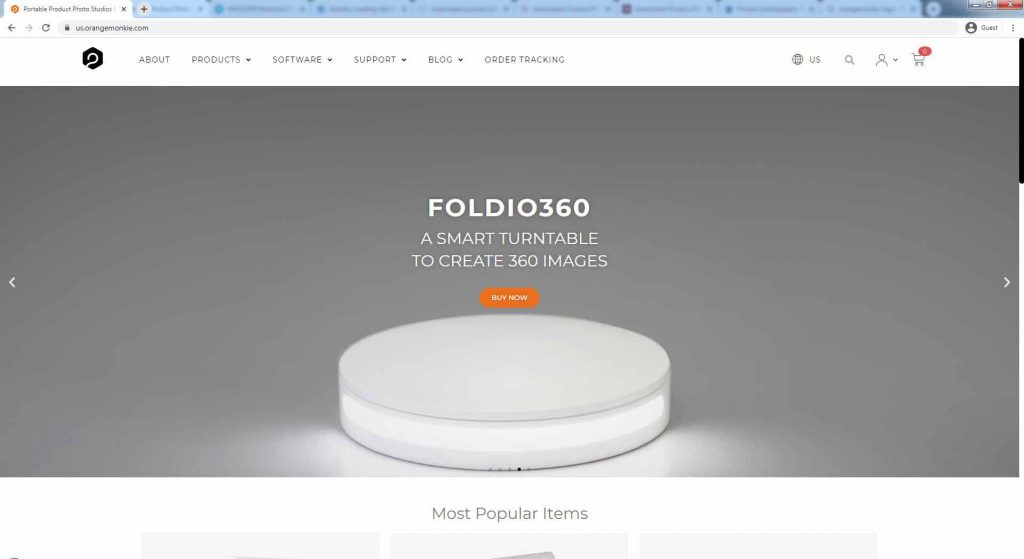 This portable and foldable version of an automated product photography system offers a tent for shooting products. The background can be interchanged quickly and is easily adaptable.
This is available in a 25" LED lightbox with a dimming controller and a power adapter.
A smartphone can control the Halo bars and the Foldio 360 turntable. The ease with which it can be operated is remarkable.
The affordability is another feather in its cap.
It has its limitations to the size of products and can never be matched with the higher quality models available.
Final Words
Advanced technology has made rapid inroads in automated product photography systems. This is the need of the hour to match the speed of developments in e-commerce.
Online businesses could not come to a standstill despite the harsh prevailing conditions like Covid-19. E-commerce has prompted the need to take the lead to take businesses to the next level.
With the need to complement the developments in the e-commerce sector, technology had to play a big part, and the ingenuity, speed, and efficiency with which the IT industry responded are commendable. Furthermore, time and efficiency. There is no doubt that these advanced solutions will change the world forever!