Are you a teacher, employee, leader, boss, or someone who conducts meetings and sessions frequently?
If yes, then let me guess a few things about you!
You want your presentations to be more engaging. You wish to have a whiteboard that would allow you to present the slides and write and explain things at the same time. You are aware of the fact that projectors offer lots of benefits when it comes to classroom sessions and business presentations.
Now the confusion is,
Not just be able to project images, but you want to be able to write on it as well.
Don't want a projector screen attached separately to one wall and a whiteboard to another wall.
Space isn't the issue for you, but you don't wish to create a mess by separating and interacting with the projector screen and whiteboard simultaneously during that important meeting.
After giving hours of forethoughts, you concluded that the only choice that remains with you is to use a standalone whiteboard for writing as well as projecting images.
But is it even possible?
The short answer is, it's not ideal though it works!
Let us discuss the possibilities of using a whiteboard as a projector screen in this article.
We'll discuss the different materials used to make a whiteboard and their behavior as a projector screen. But before we start, let's discuss the benefits and drawbacks of a whiteboard as a projector screen.
Pros of Whiteboard as Projector Screen
#1 Space – Using a whiteboard as a projector screen will save space.
#2 Money – You don't have to make a hole in your pocket by purchasing two different tools.
#3 Viewing Experience – It enhances the whole meeting experience through more entertaining & informative views.
#4 Flexibility – You can choose whether to write or project an image as per the requirement.
#5 Ease – With the ongoing projection, writing notes aside gives a better experience altogether to the audience.
Cons of Whiteboard as Projector Screen
#1 Size – Most of the time, the size of the whiteboard surface is not big enough to embrace the power of projection. Projectors can project onto a 100-inch screen and more.
#2 Ghosting – Due to the porous nature, if the written text remains uncleaned for too long, it leaves print on the whiteboard surface.
#3 Material compatibility – There are a variety of materials used for whiteboard manufacturing, and not all of them are ideal for projection.
#4 Glare Effect – Whiteboards suffer from Glare Effect, in which the reflected image will have low brightness.
Multi-purpose Whiteboards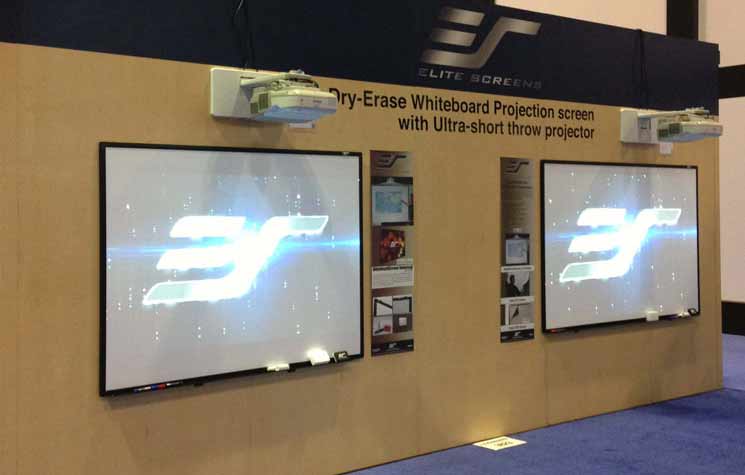 Purchasing a multi-purpose product is a natural way of cost-cutting, also the education budget is falling short & space is becoming the problem.
The multi-purpose whiteboard is designed to help the instructors seek a whiteboard that can double as a projector screen. It simplifies the process of writing and projecting images by combining two different tools (a whiteboard and projector screen) in a single device.
Such whiteboards with matte or non-glare finishes provide an impressive surface for image projection than standard dry-erase whiteboards.
Key features of Multi-purpose Whiteboards
It is a space-saving and economical product
Equips a theatre grade projection material featuring full Lambertian diffuser
Reduces the Glare Effect by 60-70% compared to traditional whiteboards
Wide viewing angle
Furthermore, the multi-purpose whiteboard surface is highly durable and can be written on and whipped off quickly.
Elite Screens provides one of the best quality multi-purpose whiteboards made of special materials for reducing the glare effect drastically. And, thanks to the current software solutions, you can get the most out of any picture with it.
Best Multi-purpose Whiteboards in 2021
Multi-purpose whiteboards are available in standard as well as custom sizes. Don't forget to check out the manufacturer's website for your custom needs.
In the following sections of this blog, we have listed our top picks for best multi-purpose whiteboards in 2021,
Let's discuss them shortly,

In this modern era, the viewers expect something different & appealing to keep them engaged throughout the discussions. This whiteboard projector screen helps in gaining attention by promising HD quality views. It is so simple and easy to install with a self-adhesive backing that is secure and long-lasting.
It comes with a 2-year premium replacement warranty. Also, note that the brand Elite Screens is popular for providing one of the best customer support services in the market.
The GreenGuard Gold certified VersaWhite projection screen material is coated with a special anti-scratch layer to provide a glare-free projection surface while making it an excellent whiteboard for writing.
Specifications and Features
Screen Size – 85-inch (Diagonal)
Viewing Angle – 180-degree
Compatibility – Active 3D & 4K UHD
Glare-free surface
Anti-scratch layer for protection
The Insta-DE2a kit includes a set of dry erase pens, Elite Screens high-density foam eraser and a self-stick cradle.

The ProAV projector Screen Series is a premium product line by Elite Screens. The Thin Edge CLR 2 Series Screen has been designed for ambient lighting environments.
Moreover, the color temperature & images brightness, with no glare, makes the presentations more fascinating. With a thin-edge design & an accessory tray, this whiteboard and projection screen combination offers versatility and convenience. In addition to protecting the edges of the whiteboard screen, the ultra-thin black aluminum frame maximizes the protection area and enhances visual contrast.
Specifications and Features
Screen Size

90-inch with 16:10 aspect ratio
97-inch with 16:9 aspect ratio
107-inch with 2:1 aspect ratio

Viewing Angle – 160-degree
Compatibility – 4K/8K UHD
One can use them with short-throw projectors
Scratch-resistant
CLR material absorbs 90% of overhead lighting
This complete whiteboard projector screen kit includes a heavy-duty pen tray, dry-erase pens, erasers and a cleaning solution.
This whiteboard from Ghent comes with a smooth white texture surface to enhance the work experience. It is ideal for slideshows, presentations, and other similar purposes.
Ghent Porcelain Magnetic Whiteboard has the highest price on this list of best multi-purpose whiteboards. In contrast to the standard whiteboards, you will notice approximately 70% glare reduction with Ghent Porcelain Whiteboard.
Specifications and Features
Screen Size
60-inch
67-inch
86-inch
107-inch
Scratch-resistant
70% glare reduction
Overall, the whiteboard and projection screen has various impressive qualities to make it a decent and pocket-friendly purchase.

It is a budget-friendly whiteboard projector screen on this list. Elite Screens Insta-DE was introduced as the ultimate instructional presentation tool that combines a dry-erase whiteboard and a professional projector screen.
The surface is coated with unique projection screen material featuring a transparent layer that allows you to write and project images. This unique material is known as VersaWhite.
Specifications and Features
Screen Size – 84-inch
Viewing Angle – 180-degree
Compatibility – Active 3D and 4K UHD
Boasts true color reproduction and contrast-enhancing features
Ideal for short throw and interactive projectors
Scratch-resistant
The Elite Screens Insta-DE comes with magnetic backing and a black aluminum frame. The product kit includes an attachable tray, two markers, one eraser, and one cleaning solution.
So that was all about the whiteboard as a projector screen.
It looks like there are limited options available when it comes to multi-purpose whiteboards. But in the following section, let us look at a few more options available that let you project and write simultaneously on one screen.
Alternative to the whiteboard as a projector screen

Projector screen paint is the best alternative to multi-purpose whiteboards due to following reasons,
Improved image quality
Low price
Infinite screen size
Wide range of availability
In contrast to standard paints, a projector screen paint is specially designed to enhance the image quality by improving the brightness and contrast.
Various factors need to be considered while choosing the projector screen paint: type, gain, viewing angle, ease of application and more. Also, make sure that you choose water-based paint for excellent results.
Traditional Whiteboards – Things you need to know before you choose them as projector screen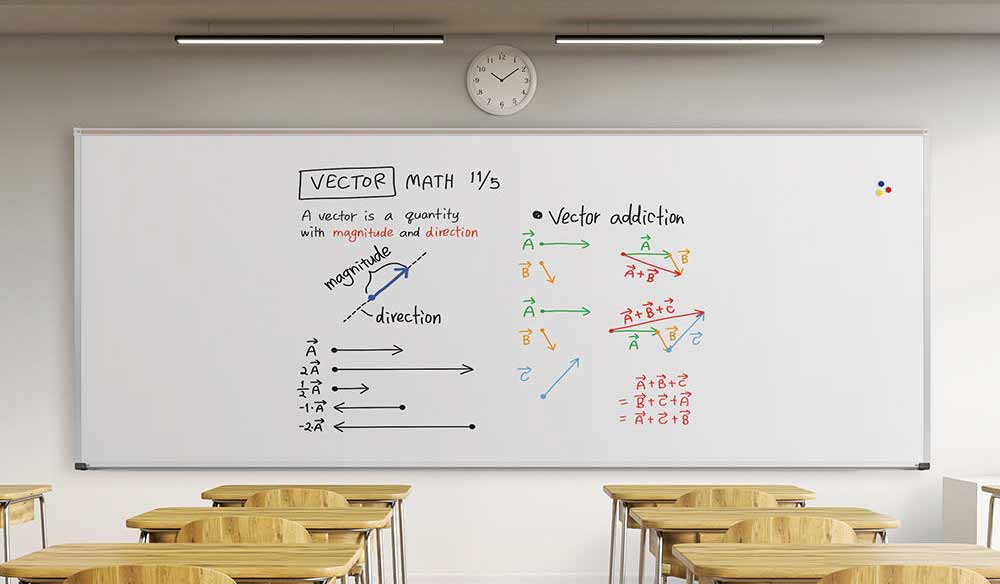 A whiteboard (or a dry-erase board) is an advanced version of a traditional school blackboard. It has a glossy white surface coated on the magnetic metal sheet. Such boards were first introduced to classrooms in the 1970s to minimize the use of chalk & dust.
They are mostly found in classrooms and meeting rooms. Whiteboards are available in a variety of sizes and are generally mounted on the walls.
They are divided into the following categories depending upon the material used for manufacturing them,
Melamine Whiteboards
Porcelain Whiteboards
Glass Whiteboards
Proprietary Steel Coating Whiteboards
Let's shortly discuss the above types of whiteboards and their compatibility as a projector screen.
#1 – Melamine Whiteboards
Melamine whiteboard is a budget-friendly choice. But the cheap materials used for manufacturing them are likely to wear out faster. Such whiteboards are prone to Ghosting, so proper cleaning is necessary.
Despite their affordability & availability, melamine whiteboards are considered a bad choice and not used as projector screens because they produce low & poor quality images.
#2 – Porcelain Whiteboards
Porcelain whiteboards equip baked enamel surfaces that are long-lasting, sturdy, & have many protective layers, making them perfect for extensive use in schools, colleges, conference halls, offices, & institutions.
Non-porous nature ensures that they are less prone to ghosting. Few porcelain whiteboard manufacturers like Elite Screens and Ghent claim to reduce the glare by 60-70% compared to standard market whiteboards.
#3 – Glass Whiteboards
Nowadays, whiteboards that use tempered glass as a writing surface are trending in the market because they are scratch-resistant, stain-resistant, long-lasting, and non-porous. These costly whiteboards are durable and ghosting-free.
Glass whiteboards cannot be used as projector screens because they are translucent in nature.
Now, at this point in this article, you might be saying that the standard or traditional whiteboards are not ideal projector screens. Yup, true! But let's move on to the discussion of modern multi-purpose or dual-purpose whiteboards capable of working as a projector screen, reducing glare, and improving the image quality.
Interactive Projector and Pen – How does it relate to whiteboard as a projector screen?

In 2021, basic projectors no longer offer the same influence in the classroom and office as interactive projectors.
An interactive projector allows users to interact with the projected image in real-time. You can alter slides, highlight, write text and draw graphs using a compatible interactive pen. So basically, they convert projector screens or walls into interactive displays.
Here are a few of the drawbacks,
The interactive pen responds very slowly
Interactive projectors are short throw projectors meaning that they need to be mounted very close to the screen
Short throw projection can blind the presenter
IMHO, you can replace the whiteboard with a standalone projector screen if you plan to pick up an Interactive Projector. However, its responsiveness is something that may disappoint you. Let's hope to see this issue resolved in upcoming years.
Also, note that interactive projectors were originally designed for office presentations and not classrooms. So if you are a teacher, then it'll definitely disappoint you.
There are few interactive projectors and pens that work exceptionally well, but they will break your bank.
Final Verdict
While this modernization is ongoing, everyone knows that the education systems and businesses play a vital role. Using a whiteboard as a projector screen is an efficient and entertaining way of conducting meetings and sessions.
No doubt that there are a few drawbacks associated with this creative concept of combining two tools altogether. But let's keep the faith in growing technology and constant efforts by engineers and scientists.
Soon we will either be seeing more advanced whiteboard projector screens or interactive projectors with impressive speed and accuracy.
We tried to cover everything in this article, but this topic isn't explored to the fullest, at least to this date, so if you have any questions or doubts, let us know by commenting below.