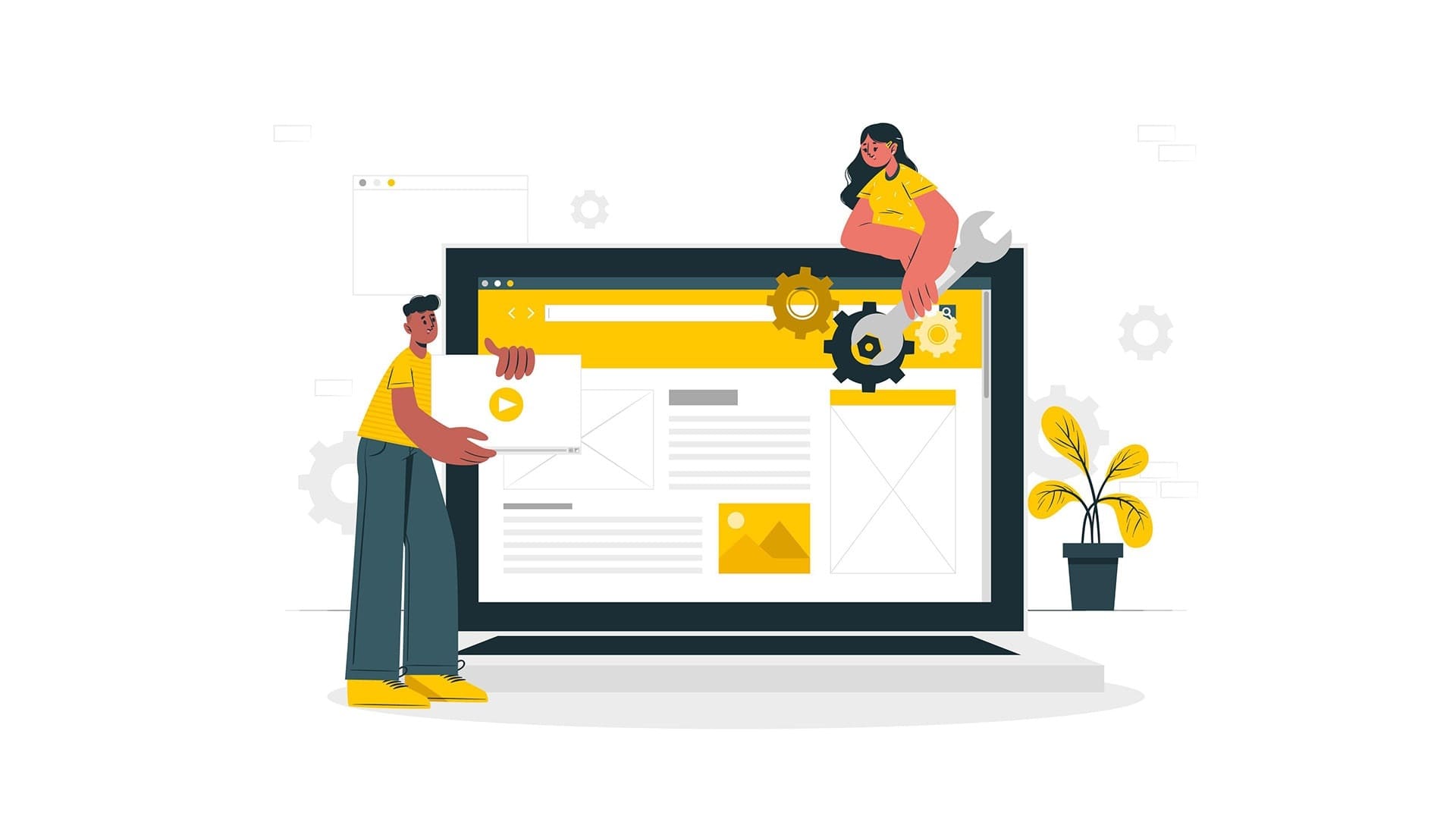 Hundreds of WordPress Widgets are available to download for FREE on the internet. They are easy-to-use and installation is also a breeze.
WordPress Widgets were first introduced in 2007 during the release of WordPress 2.2.
In the beginning, widgets were simply the way of decorating the website and landing page. But in 2022, they are one of the proven ways of providing the best navigation, user experience, and lead generation.
Ex. most bloggers use "related post" and "popular post" in the sidebar of the blog page to encourage users to engage with other articles on their website.
Table of Contents
List of WordPress Widgets
How to Choose Best WordPress Website Widget?
Choosing the best widget is made complicated by introducing people to the bunch of widgets that are less likely to be useful to everyone.
Actually, the choice of widget depends upon the type of website.
Because in reality, every website is different. Like,
Business landing page
Blogging Website
E-commerce Website
Portfolio Website
News or Media Website.
Each of the above websites serves different goals. So, they use different strategies [features and functions] to achieve those goals.
Considering the fact,
In this article, I will help you choose the right widget for your desired goal.
Generally, the goals can be,
At last, there are a few awesome widgets that are worth trying and can benefit nearly all types of websites.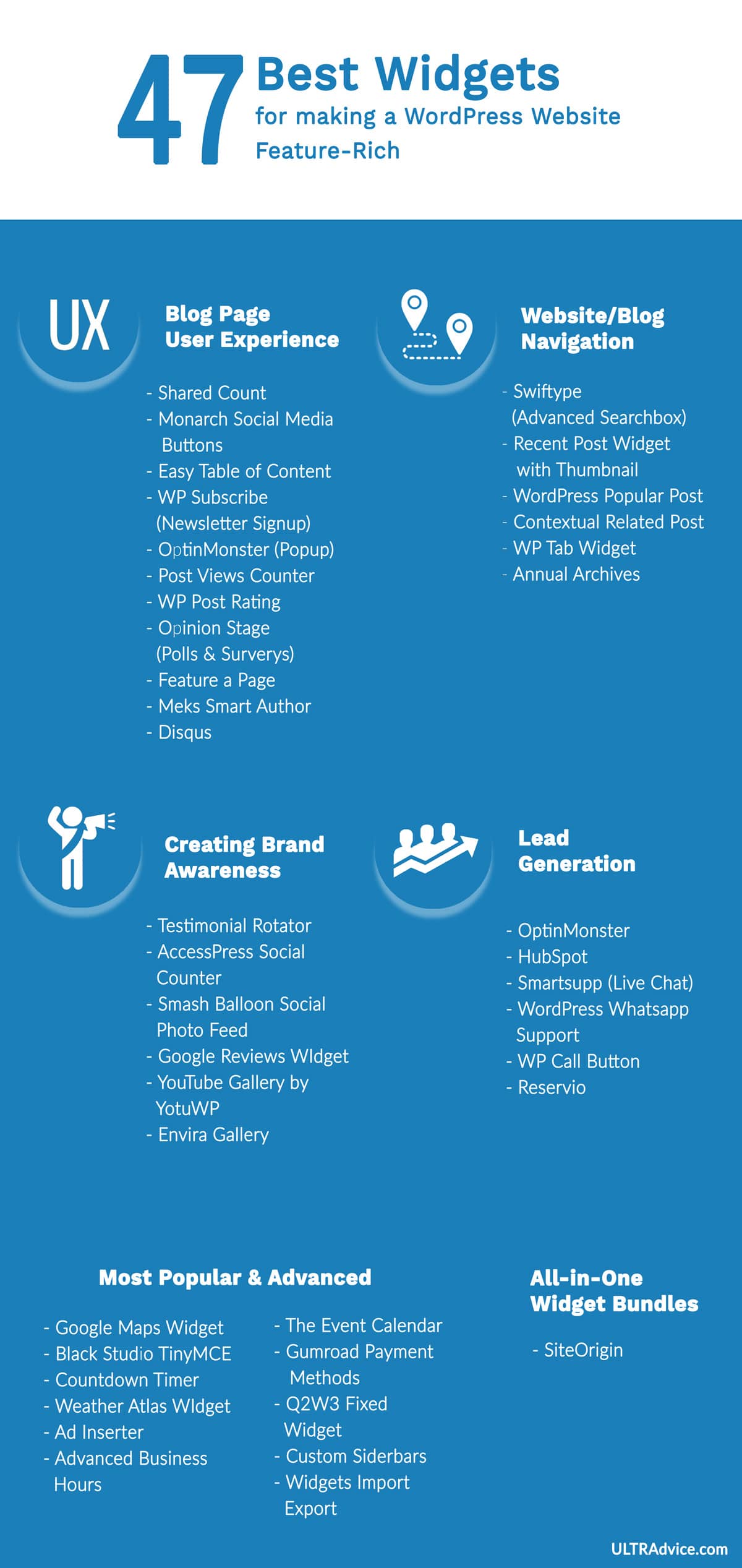 Now without any further ado, let's start…
Widgets for a Blog Page

Shared Count is a fantastic widget that shows your blog's performance on social media. It let you display how many times your article is shared on social media.
Do you know? It is a proven way to encourage readers to share articles.
This trick can improve your blog's referral traffic almost by 10x if shared by the right people.
Nearly every blogger nowadays uses this feature! I am talking about those fancy little buttons that allow readers to share content with their social media network.
When you start reading an article online then you will notice small social media icons popping up in the left, right, and maybe at the end or the beginning.
The stats show that the blog will rank higher in Google Search Results if it is shared by a substantial amount of people on social media.

Even when a blogger tries to keep his article short then also few topics are vast enough to take more than 2000 words to complete.
Look at this blog that you are reading right now. It is 4000+ words long.
When it comes to the longer articles, it is suggested to have a nicely designed table of content. So that your readers will easily navigate through your blog and don't get lost!
The Easy Table of Content lets you display the index of your blog in the sidebar making it super easy for readers to jump to any section of your blog.
This intelligent widget automatically prepares a table of content (you can modify it later).

The main goal for every blogging website is to grow the email list.
Considering an e-commerce website, it always struggles hard to convert a one-time customer into a returning or regular customer. Also in the case of a blogging website, it matches the needle! You can also convert your one-time reader into a regular reader.
The trick here is, get the visitor's email and communicate with them when you publish a new article, launch a new product, seasonal offer sale or a webinar, podcast, etc.
There are plenty of different plugins to use. I will suggest using WP subscribe because of the Drag-and-Drop Form Builder and quick integration with email automation services.
Email automation is necessary because with the growing business you cannot send emails to thousands of subscribers manually. For this reason, WP Subscribe can integrate with MailChimp, AWeber, Feedburner, and plenty of other email automation services.

The topic of online lead generation (digital marketing) is incomplete without mentioning OptinMonster.
The pop-ups by OptinMonster are very popular!
With this plugin, you can add newsletter signup forms, pop-ups, floating bars, etc.
The main advantage of using OptinMonster is that it offers extensive customization through the drag-n-drop builder. It easily integrates with email automation services like Mailchimp to export and manage emails.
As the name itself speaks a lot, it lets you display how many times your article has been viewed.
Google Analytics is our favorite tool for analyzing page views. But it is not possible to display data from Google Analytics directly on your website.
If you think your article is making a significant amount of views then display them to new visitors and create a sense of popularity in their minds.
Moreover, you can manually pick up a post for which you want to display the views.

Product reviews and ratings are common nowadays. People are very responsive to such a system and you can draw valuable feedback about your blog post.
So how about article reviews and ratings. Cool! I guess!
This unique widget allows readers to rate your blog post.

If you want to make your blog post more interactive by asking a set of useful questions to visitors.
Then this creative widget is the best fit for you.
Opinion Stage is very easy-to-use. Just create a poll then insert it into your posts and wait for the reader's inputs. Also, it allows you to create quizzes to engage your readers.
It can be helpful in gathering visitors' opinions and information about the topic.
In contrast to the commonly used "Recent Post" or "Popular Post" widget, the Feature A Page Widget allows you to display a single post as a featured article.
It may be a newly published post that you want to promote or your website's masterpiece content.
The main advantage of using this plugin is that you can display a thumbnail, heading, and excerpt to create an impressive look and draw the reader's attention towards it.

You are always supposed to see a section at the end of the blog post that tells you about the author of the article.
This widget is a must for people who don't have an author bio section on their blogging website!
You can display the author bio in the sidebar as well and let your visitors know about you right from the very moment they land on your article.

Disqus can be thought of as the next-level blog commenting system.
If people are loving your blog post and interacting with you through comments then this widget is an excellent tool for you to manage and keep track of those comments.
This intelligent tool will let you monitor and respond to the comments from a centralized location.
That's it about blog page improvement widgets.
Now, you might be thinking about some missing pieces that can help readers to navigate to other articles on your website. Let we discuss them in the following section,
Widgets for improving Navigation

You might say that every website has an in-built search box and there is no need for any additional widgets.
But, Wait! Advanced Swiftype takes website search box to next level!
It is developed mainly for big websites with extensive catalogs and content. Used by companies like Samsung, BMW, and Marketo, etc.
Swiftype, in itself, is a Search Engine similar to Google. When you register with them, they will scan content on your website and index it in their database to develop a real-time search engine.
When a user searches for something on your website, The results are determined by the Swiftype algorithms.
This intelligent tool is capable of search query auto-completion, spell checking, and phrase matching. Also filtering search results based on price, reviews, availability, date, etc.

Usually, the WordPress theme comes with a default Recent Post Widget. But it is limited to displaying a list of recent posts with headings.
To make your recent post appearance more attractive you need to switch to Recent Post Widget With Thumbnail.
It lets you display a list of recent posts with the heading, featured image, and excerpt to make the section eye-catching and draw the reader's attention.
Popular posts are the best way of introducing readers to your website's masterpiece content. The widget can be added to your home page and blog page sidebar.
You can set popularity by the day, week, month, or year. If you want then sorting popularity by comments, reviews, pageviews is also a breeze.
Using multiple WordPress Popular Post widgets in a single sidebar with varying popularity criteria is also possible.
WordPress theme comes with an in-build Related Post Widget but it is limited to displaying articles from relevant categories only.
The Contextual Related Post is an AI-based Widget. It is a great choice for people who want to take related posts to next level.
With this widget, displayed related posts will be unique to each piece of content on your website.
This unique plugin is worth trying if you want the blog page sidebar more interactive.

This awesome widget is not much used but it has something very unique to offer.
Let's see, it impresses you or not.
Suppose that you are relying on related and popular post links as a part of your article navigation system. Somehow they are taking too much space of your sidebar which you wish to utilize for other widgets.
WP Tab Widget can be helpful in such cases.
It displays recent posts, popular posts, and tags all in a single box (refer to above image).

If your blogging website has the largest inventory of blogs then this widget will help readers to easily explore that inventory.
It let you group articles in monthly and yearly archives.
In contrast to the WordPress default archives Widget, the Annual Archives can fit into a little space on the sidebar.
Widgets for Generating Leads
Widgets for lead generation depend upon the type of business and strategies for attracting visitors/customers.
Ex. an affiliate blogger may be interested in the Newsletter Signup widget and an e-commerce website may wish to create Pop-ups during sales.
I have tried to cover lead-generating widgets for each type of website. So let's dive in,

The topic of online lead generation (digital marketing) is incomplete without mentioning OptinMonster.
The pop-ups by OptinMonster are very popular!
With this plugin, you can add newsletter signup forms, pop-ups, floating bars, etc.
The main advantage of using OptinMonster is that it offers extensive customization through the drag-n-drop builder. It easily integrates with email automation services like Mailchimp to export and manage emails.
If you are in a search of several lead-generating widgets in one pack/bundle, then HubSpot All In One Marketing is the best fit for you.
HubSpot is well-known for offering excellent quality service.
This all in one marketing widget bundle contains,
Email newsletter widget
Forms and Pop-up widget
Live Chat widget
It comes with a great Analytics Dashboard where you can manage all Opt-Ins. These Widgets can be powered with CRM, Sales, and Customer Service Software from HubSpot.

If you are a SaaS or e-commerce company, then offering live chat is compulsory for you.
Smartsupp Live Chat is the best channel for providing support to customers. In contrast to email, this excellent tool lets your visitor engage with you through a real-time conversation.
Super quick response time by live chat dominates traditional email support services.
Recent studies have shown that websites with live chat services have impressive conversion rates. Also, the customer who interacted with the live chat representative is most likely to convert.

As the name suggests, this Widget lets you add WhatsApp to your website.
This is particularly useful in the case of SaaS or E-commerce company websites.
Nowadays, everyone is using WhatsApp. So it is a good idea to connect with visitors on WhatsApp.

For a consultancy, personal training, or restaurant website displaying a call button is a perfect way of generating high-quality leads that are most likely to convert.
Generating leads sounds very easy with this widget.
This Widget is developed for smartphones. It lets you add a landline or mobile phone number to your website.

In 2022, if you are still using phone calls to book appointments then I have better suggestions for you.
Reservio is designed for restaurants, medical, healthcare, beauty, personal care, and other websites that book appointments.
So, don't wait! Register for their service. Because now is the time to book appointments online with Reservio.
This advanced booking tool can be integrated with Outlook, iCal, Google Calendar to show your availability to visitors and let them book appointments accordingly.
There is no time limit to schedule appointments because anyone can book appointments at any time from anywhere.
Creating Brand Awareness and Improving Social Media Influence
Customer Testimonials is one of the proven brand marketing techniques. You must use this Widget on your landing page to tell your visitors what people think about your service or product.
This Widget is incredibly useful when it comes to increasing brand value.
You can display customer testimonials in the form of quotes or videos where people talk about how your service or product helped them.
According to experts using customer testimonial videos is an excellent way of increasing trust and social proof. Testimonials with star ratings are a superb way of activating brand image in customers.
If you have enough followers on social media, then this Widget can show that count directly on your website.
With this widget, visitors will get to know about the popularity of your brand on social media.
Many websites use this technique as social proof of their brand. This technique will encourage visitors to follow you on social media.

Smash Balloon Social Photo Feed will help you boost your Instagram followers. Portfolio websites by photographers can leverage this widget.
With this widget, you can attract visitors' attention to an eye-catching colorful Instagram photo grid.
It is possible to display the feed from someone else's account as well.

Positive Google Reviews can boost your business revenue.
Those who are having excellent reviews and ratings should display them directly on their website. Because it will help in adding brand credibility.
Customers treat reviews and ratings as the most trusted source of opinions about a business or service. Reviews from Yelp also play a very crucial role in converting leads into customers. Here is a separate widget for it, Click here!
Usually, the WordPress theme comes with a default YouTube widget. But it won't allow full control over the appearance and video playback.
With YouTube Gallery by YotuWP, you can add videos along with the control buttons like Autoplay and Mute sound.
This widget is a way of growing YouTube subscribers by adding mobile responsive videos and sometimes an entire video gallery to the website.

If you want to design a beautiful photo gallery on your website, then this widget is the best fit for you.
It offers a drag-and-drop gallery builder. This widget is clean, easy-to-use, and don't require any coding.
The Envira Photo Gallery is device responsive and SEO friendly.
Bonus – Advanced and General Purpose Widgets

This widget is for businesses who want to attract visitors to their physical location (stores and services).
Especially for a restaurant website that wants its customers to locate them on Google map.
Google map is displayed in a small block and after clicking on it a big pop-up is opened for further interaction.
This Widget is operated through Google's Static Maps API, so it is trustworthy and reliable.

This Widget is designed to take the default WordPress Text Editor to the next level.
Default Text Editor is for basic users. So, Black Studio TinyMCE Widget adds extra features to this basic editor and makes it advanced.

Here comes the tool to power up your limited-time sales and offers.
If you are not using the Countdown Timer as a part of your seasonal offer launching strategy then it potentially implies you are lacking the most trending way of creating scarcity.
Countdown Timer Widget is an excellent way to create hype for your upcoming event.

If you own a travel or holiday letting website, then this Widget is an excellent choice for you. It can have a very positive impact on your conversions.
This intelligent widget decides the language and units to display depending upon the searcher's IP Address. Also, changing the background color with respect to the weather conditions.
Weather Atlas Widget is a reliable source of information because it obtains data from OpenWeatherMap API.
With Ad Inserter, controlling and managing ads displayed on your website is a breeze. You can place ads in the sidebar with additional controls.
It can rotate ads so that you can test the performance of several ad copies.
This plugin is highly rated and popular, also recommended by Google AdSense.

As the name suggests, this Widget lets you display business opening hours on your website.
It is useful in the case of restaurant and dental websites. Other websites that want to attract customers during a certain period of time in a day can also leverage this widget.

This is an excellent widget for listing events. Add upcoming events with full details and show them anywhere on your website.
It is a way of sharing information about your upcoming sales and webinars. The visualization is very impressive, clean, and organized.
You can import events from Google Calendar, iCal, and Outlook.
Those who are selling eBooks or any other digital good through their website need Gumroad.
For selling online you require to set up woo-commerce and then enable the payment gateway. This hectic process is for people who have large inventories to sell.
Gumroad takes care of this process and does all the job for you (who need to sell one or two digital goods). The processing fee is around 3% (less than everyone on market).

Most bloggers don't want their Newsletter Signup form and social sharing buttons to disappear as readers scrolls down.
If your concern is the same then Q2Q3 Fixed Widget can help you out.
It lets you stick widgets like Newsletter Signup form, Opt-in Form, meaningful articles and contents, ads to your sidebar.

The sidebar is a great place to add a widget block. Proper use of widgets encourages readers to take desired actions like following links to landing pages.
Since as we know, the count and location of the sidebars are defined by the theme of the website. But what if you want a different [additional] sidebar for a custom page.
With Custom Sidebar Plugin, you can add new sidebars and put them wherever you want on desired web pages.

Finally, let us discuss how you can move your widget settings from one website to another.
You might have spent a significant time building a fantastic website using awesome widgets. It becomes tricky and mainly time-consuming while migrating those widgets and functionalities to a new website.
So, the Widget Import and the Export plugin can help you in this matter. Just export widgets and settings in JSON file format. And, import that JSON file into your new website.
Now, let us discuss a plugin (pack or bundle) full of useful widgets!
All in One: Widget Bundles

SiteOrigin is a highly popular WordPress Widget Bundle that packs 22 widgets. You can rely on this bundle for most of your widget needs because they all are useful.
The main ones include a contact form, testimonial, pricing table, google map, Newsletter Signup, call-to-action buttons, image slider, etc.
It is a big bank of widgets taking a fair amount of your server space. But, no worries! You can disable a few widgets from settings that are not useful to you.
This Widget Bundle can be coupled with the SiteOrigin Page Builder for maximum ease.
Final Thoughts
We have discussed 47 widgets, but there is more to explore. I will suggest you go through this website, "elfsight.com." It is very popular and I believe that you will find something more exciting and useful for your website.
Ok, we are done. Thank you for being with us through the line.
If you find that I am missing any fantastic widget, then don't forget to comment below. I will add it to this list.