A Laptop Projector Hybrid combines the power and functionality of a laptop with the flexibility and accessibility of a projector.
You may be wondering, is it even possible to combine a projector with a laptop?
Obviously, yes! Because with growing technology, projectors have become tiny devices that can fit comfortably in the palm of your hand. Today's pico projectors are much lighter and smaller in size compared to conventional business projectors. Furthermore, they are highly versatile and easy to attach to laptops and mobile phones.
In this article, I will introduce you to laptops with a built-in projector. They are designed for the consumers expecting to pay less by purchasing one multi-functional device rather than a collection of devices for business/classroom presentation or on-the-go entertainment.
Few laptop manufacturers have developed 3-in-1 Windows Tablets with a modular design that combines tablet, laptop, and projector to take the portability and convenience to a next level.
Now without any further ado, let's jump into the main section of this article.
#1 – Lenovo ThinkPad X1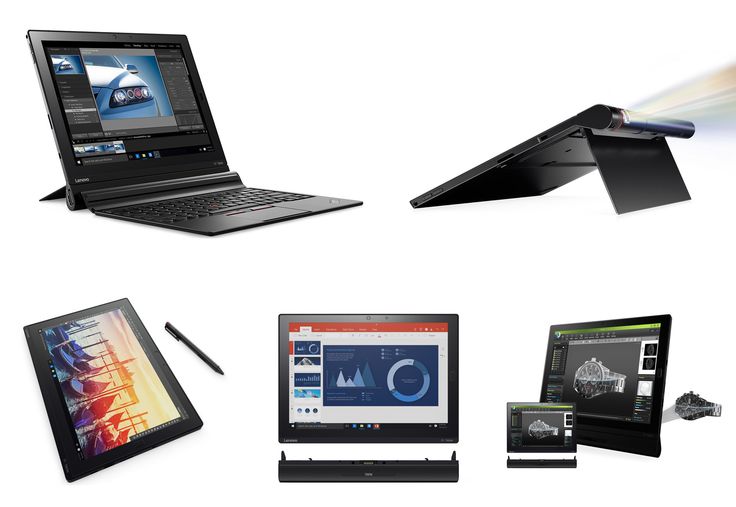 Lenovo provides the best quality laptops, including a range of Windows tablets and a laptop projector hybrid, the ThinkPad X1.
If you are looking for a windows tablet or 3-in-1 device for classroom or office work, then the Lenovo X1 tablet is a good option.
It was launched back in 2016. The uniqueness of this hybrid device is that it comes with the following modular add-ons to make it highly customizable and versatile.
Keyboard
Projector
3D Camera
Battery
The ThinkPad X1 looks like any other tablet on the outside, but it has the capability of transforming into a laptop, projector, or 3D camera by attaching three modules to the bottom.
The keyboard add-on fits into three angles for comfortable typing. In addition, you can extend the battery backup by five hours by attaching the battery add-on.
You can project on a 60-inch display using the projector add-on. This pico projector add-on serves as a great addition to project your slides on a larger display to a larger audience.
It is one of the first budget-friendly tablets by Lenovo with a kickstand. However, unlike many tablets with kickstands, the Lenovo version has one hinged in the bottom, allowing it to open into an L-shaped position. Most other tablets have it hinged midbody, which is considered very hard to handle.
#2 – Asus Laptop with Projector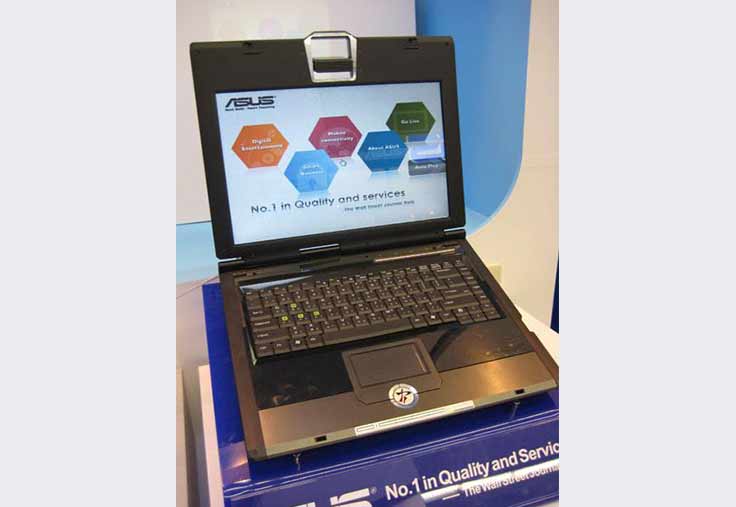 Asus was the first company to introduce a laptop with a built-in projector.
In 2008, Asus came up with a Prototype laptop that had a built-in projector. It was among the most demanded updates from Texas Instruments, which added projection capabilities to the laptop.
Asus had replaced the webcam on the top of the LCD screen with an integrated projector. It is undoubtedly counted among the best laptops with built-in projectors but is not in the market anymore.
We couldn't gather much information about this laptop either from the internet or the official Asus.com website.
#3 – Fujitsu Lifebook SH771

This can be considered as a true laptop projector hybrid everyone is seeking. It was introduced to the world in 2011.
This laptop is packed with excellent features, but among others, one of the best features of the laptop is a modular bay that houses a tiny projector, which is aimed at replacing conventional projector for small meetings.
The Fujitsu Lifebook SH771 is easy to operate and has a sleek and attractive appearance. It is a 13.3-inch laptop built for professionals who desire a stylish, feature-rich, and powerful laptop. It is almost as tiny and light as an Ultrabook, but it has a full-voltage Intel Core CPU, a built-in optical drive, and a slew of additional connectivity options.
The Lifebook SH771 is available to purchase, but it is no longer shipped with a built-in projector.
What is HP Sprout?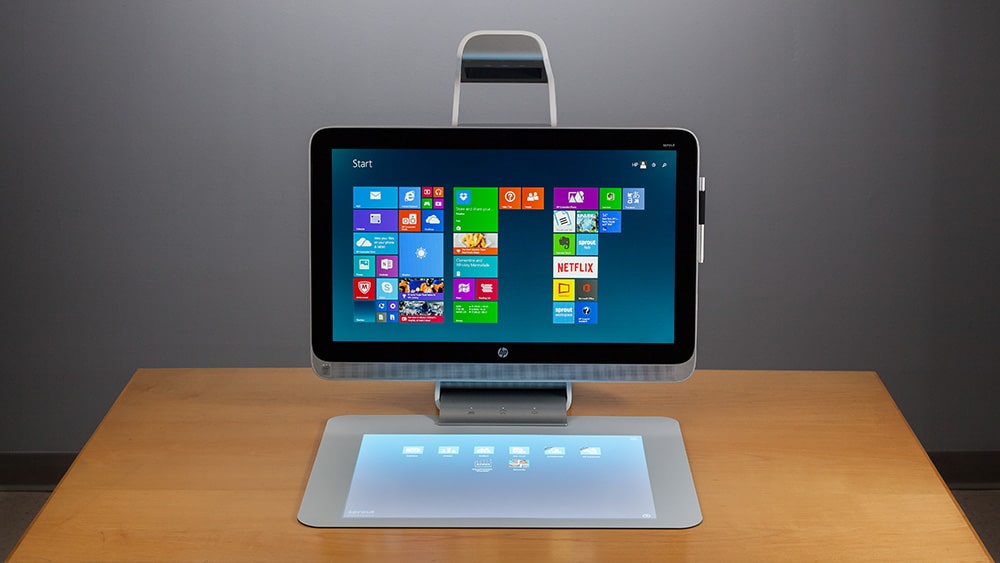 By looking at the image, you might be wondering, is it a computer that comes with a built-in projector?
This HP Sprout is an all-in-one windows computer. HP's Sprout integrates a desktop PC, projector, touch-mat display, and 3D scanner into one device.
What's the role of the projector in HP Sprout?
It projects the computer screen on the touch mat. In simple terms, it projects a secondary display in front of the 23-inch primary display.
HP Sprout was introduced as a concept in 2014 for the first time.
Its unique features include a 3D scanner and touchscreen mat that works as a projector screen and secondary display. The Sprout Illuminator that hangs above the 23-inch display holds a DLP projector, a high-resolution 14.6-megapixel camera, and Intel's real sense 3D camera.
The sprout can act as a 3D scanner with its high-resolution camera. As the usage of 3D scanning and printing becomes increasingly common, devices like these might become widespread in the future.
In the end, this is a decent product that will require good space to fit well in the workplace or at home.
Conclusion: Is there any laptop with a built-in projector that you can purchase in 2021?
Hmmm, no!
Laptop manufacturers couldn't seem to tackle the hitting issues imposed by pico projectors, which might hurt the system's overall functioning. Apart from that, let it be a business presentation or entertainment purpose, pico projectors do not offer expected picture quality and display size.
However, in 2016, Lenovo came up with a different solution and added a pico projector as an add-on to the tablet to design a 3-in-1 device. But they also discontinued the projector add-on with ThinkPad X1 Tablet after one or two years from 2016. Now it is available as a 2-in-1 Windows Tablet.
Anyways, we know you are eagerly waiting for something that would help you eliminate the requirement of carrying multiple devices during office presentations and vacations. But, unfortunately, in 2021, there is a downfall in this market, and for now, at least there are no such products to purchase.
Let us know your reactions to this situation.